August 31, 2019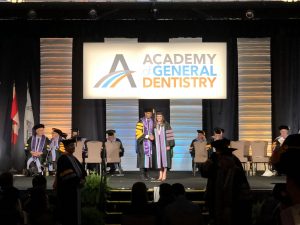 When you are choosing your dentist, one of the top things you should consider is a dentist's commitment to staying at the forefront of their profession. Do they go above and beyond what is required of them when it comes to continuing education? Are they always looking for ways to improve their skills and expand their knowledge? Dr. Allison Fowler checks those boxes. Her ceaseless efforts to hone her skills have enabled her to become Fellow in the Academy of General Dentistry (FAGD). Let's discuss how she earned this honor and what her accomplishment means for you.
What Is an AGD Fellowship?
AGD is an acronym that stands for Academy of General Dentistry. The Academy of General Dentistry is a professional association of dentists across the United States and Canada. The AGD encourages dentists to sharpen their skills through continuing education.
To become a Fellow of the AGD, Dr. Fowler had to maintain an active AGD membership for at least three years, participate in at least 500 hours of approved continuing education, and she had to pass a comprehensive written exam — the exam has a total of 400 questions! Only 6% of general dentists have achieved this honor, and now Dr. Fowler is among them.
What AGD Fellowship Means for You
Dr. Fowler's FAGD is more than another item for her to put on her resume. Her new title — and the extensive training behind it — brings some outstanding benefits to you:
FAGD dentists must have at least 500 hours of qualifying CE, while other dentists only need 24 hours of continuing education every 2 years. Thus, Dr. Fowler's patients can be confident that they care they receive is coming from a highly qualified dentist.
FAGD dentists regularly learn new techniques and ways of approaching dental care. Patients with complex oral health issues can rely on Dr. Fowler for treatment.
The Academy of General Dentistry provides clear evidence from a neutral party that Dr. Fowler wants to provide her patients with the best care that modern dentistry has to offer.
Experience AGD Fellowship-Level Care
Dr. Fowler's past experiences in coping with dental health issues of her own mean that she is as compassionate as she is knowledgeable. Would you like to learn more about her accomplishments or experience firsthand the superior care that she can provide? Contact our practice today at 214-368-0018. Dr. Fowler looks forward to putting her expertise to work for you!
Comments Off

on Congratulations to Dr. Fowler, Your Local Fellow in the Academy of General Dentistry
No Comments
No comments yet.
RSS feed for comments on this post.
Sorry, the comment form is closed at this time.