Replace Missing Teeth with Dental Implants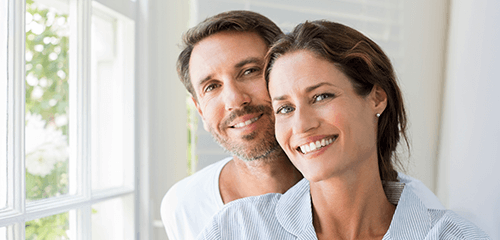 Dental implants are quickly becoming the most effective tooth replacement available because they are the only option that renews the entire lost dental structure, both roots and crowns. Your trusted Dallas, TX dentist, Dr. Allison Fowler, is happy to partner with local specialists to offer patients safe, effective dental implant placement and restoration.
First, an oral surgeon or periodontist performs the implant placement procedure. Most patients who are able to undergo basic medical procedures can safely receive dental implants. The procedure is simple. A small incision is made in the gums, an implant post is placed, and a protective cap is positioned over the implant as the surgical area heals.
After implant placement, patients need to wait two to three months for the implant post to fuse with the gums and jawbone. Once this fusing process is complete, patients return to our office to have a replacement tooth or teeth attached to the implants. Contact our team to find out more or schedule a dental implant consultation. We treat patients from Dallas, the Park Cities, and other nearby communities.
Custom Tooth Replacement Options
Following the placement of the implant posts, we fabricate a custom tooth replacement option to fully restore the form and function of patients' smiles.
Crowns – for individual missing teeth, we attach a single dental crown to one implant post.
Bridges – for two to four consecutive missing teeth, we use a fixed bridge to replace teeth. Typically, we attach two replacement crowns to a single implant post, and three to four consecutive teeth to two implants on either end of the bridge.
Partial dentures – for any number of missing teeth along a single arch, a partial denture can be attached to dental implants to fully restore a smile.
Full dentures – like the traditional variety, dentures replace a full arch of missing teeth. In most cases, we are able to support a full arch of teeth with four to six dental implants.