Porcelain Veneers
Transform Your Smile Quickly & Conservatively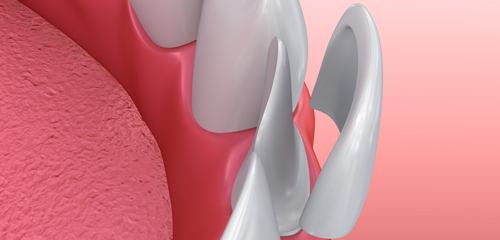 These days, there's no reason you can't love the appearance of your smile. Porcelain veneers are one of the most popular cosmetic treatments currently available. As your cosmetic dentist in Highland Park, Dr. Allison Fowler recommends transformative veneers for patients who are ready to dramatically enhance the appearance of the teeth that show when they smile. Is that you? Keep reading to find out more about this wonderful cosmetic treatment.
How Do Porcelain Veneers Work?
Porcelain veneers are a cosmetic treatment that works by simply covering up the appearance of imperfect teeth. Broken, chipped, stained, slightly misaligned, and otherwise cosmetically imperfect teeth are enhanced with these lifelike restorations. Dental porcelain is highly customizable and reflects light in the same way as your natural tooth enamel, so your new smile will look naturally beautiful. And because porcelain is highly resistant to stains, you can expect your veneers to stay the same brilliant shade of white for years to come!
What Is the Process for Veneers?
Veneers are completed over the course of just two visits to our dental office. During the first appointment, you and Dr. Fowler will discuss your treatment plan so you'll know just want to expect during the process. She will then prepare your teeth to receive the veneers by removing a small portion of enamel from the front surface. Molds or impressions will be taken, and temporary veneers will be placed to cover up the prepared teeth. Your permanent restorations will be crafted by an expert ceramist in the time between appointments.
When you return to our dental office one to two weeks later, we will have your permanent veneers back from the lab. Dr. Fowler will remove the temporary restorations and check the new ones to make sure they fit and look just right. She can still make any necessary adjustments at this point. Once everything is perfect, a special bonding solution will be applied to encourage a strong fit between the tooth enamel and the porcelain. Then, each veneer will be securely placed -- and you'll get the first look at your new smile!
Are You a Candidate for Veneers?
Many adults who are dissatisfied with the appearance of their front teeth are eligible candidates for porcelain veneers. The only way to know for sure whether or not veneers are right for you is to schedule an appointment with your cosmetic dentist. Patients who have gum disease or tooth decay should seek treatment before beginning with any elective treatment. Dr. Fowler will evaluate the health of your teeth and gums, talk to you about your smile goals, and answer any questions or concerns you have about porcelain veneers. If it is determined that veneers are the best option for your smile, we can get started right away.
Schedule an Appointment to Discuss Veneers Today!
If you are interested in the transformative power of dental veneers, please don't hesitate to get in touch with Dr. Fowler's dental office. Your dentist in Highland Park wants to help you love your smile! Request an appointment for beautiful cosmetic dentistry today.