Invisalign
Get a Straighter Smile Invisibly with Clear Braces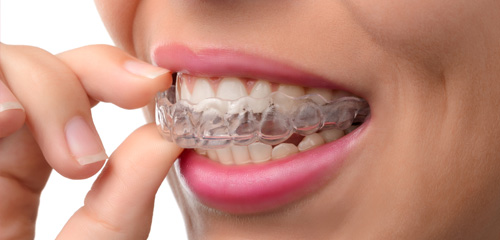 Are you interested in Invisalign in Park Cities, Dallas, TX? This clear braces system uses a series of plastic aligners which gradually shift crooked teeth into the proper alignment. Invisalign offers a subtle alternative to traditional braces, and it's one that patients of all ages can appreciate -- especially if you don't want a lot of metal showing when you smile like with traditional braces.
Invisalign: The Clear Solution
Invisalign is a clear braces system that works using a series of plastic aligners that place focused pressure on different areas of your bite throughout the treatment. Over the course of one year, on average, the teeth are brought into proper alignment with these custom-fitted aligners and periodic visits to Dr. Allison Fowler in Park Cities.
You will be instructed to wear each Invisalign tray for one to two weeks, removing them to eat and drink as well as to brush and floss your teeth. As long as you are wearing the aligners for the recommended 20 to 22 hours each day, you can even take them out to smile and speak confidently during big presentations or important meetings.
Benefits of Invisalign
Invisalign offers a number of benefits for patients, including:
Removable aligners allow you to continue eating what you like without fear of damaging metal hardware -- or having something from lunch leftover in your braces afterward.
Because you can take your Invisalign tray out before brushing and flossing, you will not be at a higher risk of tooth decay or gum disease during the Invisalign treatment.
Fewer visits to the dentist are required with Invisalign compared to conventional braces.
The clear aligners are so subtle many people may not notice anything at all.
Smooth plastic will not rub blisters in your soft oral tissues like metal brackets and wires.
Are You a Candidate?
Many patients are eligible for Invisalign. Thanks to recent upgrades to the system, teenagers can also benefit more easily thanks to compliance indicators that help them know when to switch to the next aligners in the series. Invisalign can correct the most common orthodontic issues, including:
Crowded teeth
Gapped teeth
Overbite
Underbite
Crossbite
Patients should be in good oral health before beginning orthodontic treatment or any other elective service. Dr. Fowler will recommend a checkup and cleaning before your treatment so we can check to confirm that your smile is free from tooth decay and gum disease. Once we are sure your smile is clean and healthy, we look forward to getting started right away!
Schedule an Appointment Today
If you are interested in learning more about Invisalign, including finding out you can benefit from this orthodontic treatment, please call the dental office to schedule an appointment with Dr. Fowler. You can also request an appointment online today!