Excellent Dental Experience by an Exceptional Dentist in Highland Park
We are not a corporate-owned, big box dental practice. We spend our time with our patients and aim to build relationships that last a lifetime.
A Caring, Qualified Team
Committed to Excellence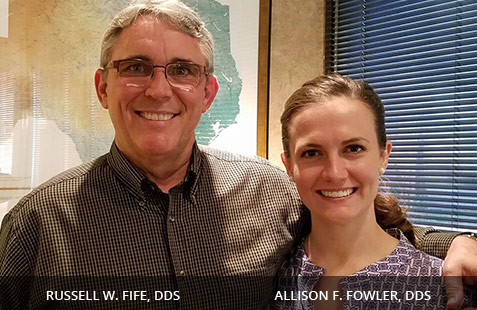 We do things a little differently at our Dallas dental practice. Dr. Allison Fowler and Dr. Russell Fife take time to get to know each patient, and we always want you and your family to feel comfortable. We quickly get to work discussing your unique smile goals and how to best achieve them, developing a treatment plan to meet your needs, wants, and desires. Our comprehensive exams check for everything from cavities to bone health to oral cancer screening, and it is our goal to make sure you are educated and informed about your health.
Patients Love
Our Personalized Care
"I had two implants done by Dr. Fife. One thing I have learned over the years is that Dr. Fife will always recommend the best options for your teeth. he truly cares about his patients. He has an excellent manner and professionalism combined with the knowledge of cutting edge dentistry. I have been going to Dr. Fife for over 25 years and have never considered anyone else for my care, and never would!" Don S. Highland Park
"Full disclosure, I am the biggest baby ever in the dentist chair. Dr. Fowler is amazing at putting me at ease. She has never caused any pain and her calm attitude and professional demeanor only instill confidence. She really is a great dentist. I will be a patient for life." David B. Park Cities
"I had a routine cleaning, x-rays and exam today. Deanna was fabulous as always. I have a medical condition that requires special treatment during the cleaning. Deanna always remembers and takes special care. I was able to meet the new dentist, Dr. Allison Fowler and I really liked her a lot. Dr. Fife is amazing, but now he may have some competition in his office. A good thing for everyone." Ann S. Preston Hollow