Restorative Dentistry
Repairing Teeth & Creating Healthy Smiles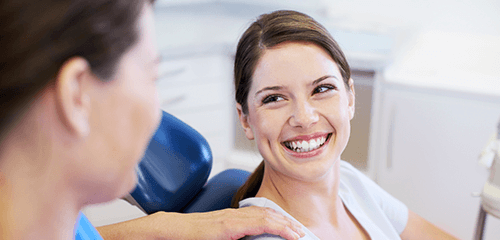 If you experience tooth decay, dental damage, tooth loss, or other oral health issues, contact our trusted Dallas, TX dental team. Dr. Allison Fowler has years of training and experience in providing patients restorative treatments that exceed the highest expectations and restore the form, function, and appearance of patients' smiles. Contact our knowledgeable team to find out more about our restorative dentistry in Park Cities, Dallas, TX or schedule an appointment today. We welcome patients from Park Cities, Dallas, TX and other nearby communities.
Dental Crowns & Bridges
Dental crowns are the most frequently used restorations. They are available in a variety of materials to repair damaged or decayed teeth. We may recommend gold dental crowns for patients who damage back teeth. While these crowns are not the most cosmetically appealing, we often recommend them for back teeth, as they offer a durable solution that does not excessively wear opposing teeth.
Porcelain bonded to metal restorations offer durability, but, over time, the porcelain layer wears away, revealing the dark-colored metal below. Additionally, these restorative options are not ideal for patients with metal allergies.
Our all-ceramic, metal-free crowns offer a cosmetically superior treatment option that retains its appearance even after years of wear. Crafted from a single block of ceramic, these restorations are less likely to chip or break away, and they are safe for patients with metal allergies. Regardless of the material our patients choose for a dental crown, we may recommend they receive dental crowns in the following instances:
Severe decay that makes a more conservative option ineffective
To replace a damaged dental filling
To conceal misshaped or otherwise cosmetically flawed teeth
Protecting root-canal-treated teeth
To replace a single tooth, we attach a dental crown to an individual dental implant post
To replace one to three consecutive teeth, two dental crowns are affixed to the replacement tooth or teeth and attached to the surrounding healthy dental structure to provide support
Dental crowns are placed over two dental office visits. During an initial appointment, we prepare teeth by removing a small amount of dental structure and capturing digital bite impressions. We then place a temporary crown to protect the prepared tooth. Once we receive the final restoration from our dental lab, patients return to exchange the temporary crown for the custom dental crown.
Learn More About Dental Crown & Bridges
Tooth-Colored Fillings
Traditionally, dentists repaired minor areas of tooth decay, chips, and other damage using silver-colored amalgam fillings. These restorations blemish the natural appearance of smiles, require the removal of a significant amount of healthy tooth structure to accommodate the filling, and once in position, go through expansion that may damage healthy teeth.
We use a cosmetically superior tooth-colored, composite resin filling material to restore damaged teeth. Composite resin fillings are applied directly to damaged teeth in a putty-like consistency. We then shape the filling material into position and harden it into place using a curing light. Once in position, the tooth-colored filling blends seamlessly into patients' natural smile, making it invisible to the untrained eye. The composite resin material forms a strong bond with the tooth, and it is less likely to chip or break away over time.
Partial and full dentures allow our team to restore smiles after significant tooth loss. Partials fill the gaps in smiles and are snapped into place like a puzzle piece anchored by remaining healthy teeth. Full dentures combine a row of replacement teeth with a gum-colored base that is crafted to fit snugly against the gums, creating suction that holds the denture in position. With proper care, partials and full dentures remain comfortable and secure for years. We also offer dental implant-supported dentures for added stability.