Full & Partial Dentures
Recreate Healthy Smiles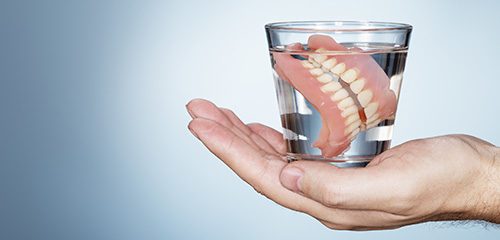 After substantial tooth loss occurs, finding an effective replacement is very important. A full or partial denture from Dr. Allison Fowler can help you eat, speak, and smile with full confidence once again. Keep reading to find out more about partial and full dentures in Park Cities, Dallas, TX, how they work, and whether or not this solution is right for you to enjoy a complete, confident smile once again!
What Is the Difference between Full and Partial Dentures?
A full (or complete) denture is one that replaces an entire arch of missing teeth in the upper or lower jaw. It is held in place with natural suction and a denture adhesive as needed. A partial denture replaces a substantial number of missing teeth when some healthy, natural teeth still remain in the gum line. The partial is secured in the smile with the help of metal brackets. For eligible candidates, dental implants can also be used to retain a full or partial denture (more on that below).
What Are the Benefits of Dentures?
Traditional dentures offer a number of benefits for patients who have experienced substantial tooth loss including:
Replacing a number of missing teeth naturally and securely
Offering a quick, affordable replacement method for missing teeth
Restoring the ability to chew properly, speak clearly, and smile confidently
Helping remaining, natural teeth from drifting out of place
How do I Maintain a Denture?
With proper care and maintenance, a non-implant-retained denture will stay sturdy and function properly for 5 to 7 years before replacement is required. Dentures do not develop tooth decay, but they will begin to lose their fit due to natural changes in the jaw and gradual wear and tear.
Maximize the lifespan of your denture by keeping these maintenance steps in mind:
Brush your denture at least once a day with a mild hand soap or denture cleanser
Remove your denture at night while you sleep to give your gums a rest
Soak your denture at night in water or denture cleanser
Brush any remaining teeth and your gums before inserting your denture
Clean your denture after eating
Notify your dentist if you start to notice your denture becoming loose or uncomfortable
What Is an Implant-Retained Denture?
An implant-retained denture is the best option for patients who are eligible for dental implants. Because the denture rests on implant posts that are sturdy in the jaw rather than solely on the gum line, the teeth have a more secure foundation. Plus, implant posts actually promote better oral and overall health by stabilizing the jawbone and preventing the loss of additional teeth.
Learn More Today!
If you are interested in learning more about dentures, partials, or implant-retained dentures, please don't hesitate to contact Dr. Fowler. Request an appointment to start rebuilding your smile today!