Dental Crowns and Bridges
Restore Your Smile's Strength and Beauty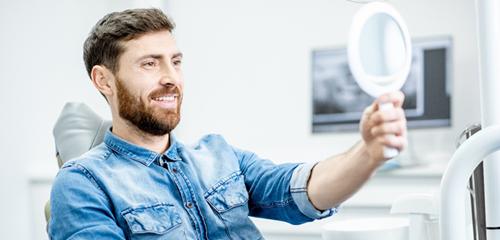 Dental crowns and bridges in Park Cities, Dallas, TX are restorative treatments that can fortify weakened teeth and even replace missing teeth. If your smile is in need of a little repair work, come visit Dr. Allison Fowler to learn about your options for getting your teeth back to looking and feeling great!
Dental Crowns and Bridges — The Basics
A dental crown is a custom restoration that Dr. Fowler places over the entire visible portion of a tooth. The crown's purpose is to strengthen a weak tooth, restoring its shape and function while protecting it from further damage. A tooth may need a crown if:
It has recently undergone root canal therapy
It is badly misshapen
It has suffered extensive decay, and a filling, inlay, or onlay won't be sufficient to repair it
It has an old crown that is damaged and needs to be replaced
Dr. Fowler can also use crowns to replace a missing tooth altogether. She'll likely recommend that you receive a dental implant to replace the root of the missing tooth. Once the implant is ready, a crown will go on top of it to finish restoring the tooth's appearance and function.
Alternatively, you might opt for traditional crown and bridgework (sometimes simply called a fixed bridge). A typical bridge consists of two crowns, which get placed over the teeth that are next to the empty space. The crowns support an artificial tooth (or teeth) that "bridge" the gap.
The Dental Crown and Bridge Process
Unless you're receiving a dental implant, the first step in the crown or bridge process is for Dr. Fowler to prepare the tooth (or teeth) that will receive the restoration. After she makes sure you're comfortable, she'll reshape the tooth so it will fit well beneath the crown. Then, she'll take detailed images and impressions of your mouth, which will serve as the basis for designing your crown or bridge. You'll wear a temporary restoration to protect the tooth while a dental laboratory creates your custom crown or bridge. During a second appointment, Dr. Fowler will double-check to make sure the crown or bridge fits before she places it in your mouth.
Dental Crown and Bridge Benefits
Dental crowns and bridges offer some outstanding benefits:
High-quality dental porcelain is the material of choice for the restorations that Dr. Fowler designs. The porcelain is extremely durable and is virtually indistinguishable from natural teeth. Metal crowns and porcelain-fused-to-metal crowns are also available. Our team will be sure to explain the pros and cons of each option to you.
Crowns and bridges can restore full dental function, enabling you to eat virtually anything without worrying about damaging your restoration.
A crown can save a weakened tooth from extraction, and a bridge can prevent the dental drift that often occurs after tooth loss.
Do you believe you could benefit from a crown or bridge? Contact our dental office today to schedule your restorative consultation.