Children's Dentistry
Keeping Park Cities Kids Smiling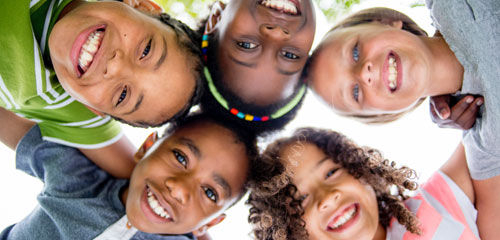 Is there anything more joyful than seeing a child's happy and exuberant smile? We don't think so! As your family dentist in Park Cities, Dallas, TX, Dr. Allison Fowler and her team are committed to helping you make sure your children's teeth and gums are strong and healthy. We offer comprehensive services for the youngest smiles in your family. With an extra helping of patience and fun, Dr. Fowler will introduce your kid to the "tooth counter," "Mr. Thirsty," and the "tooth towel" so that your child actually enjoys visiting our dental office! When they are finished, our dental office has a special treat for each child.
The First Visit to the Children's Dentist
In keeping with the recommendation of the American Academy of Pediatric Dentistry, Dr. Fowler would like to see your child within six months of when that first little tooth appears or around one year old. At this initial checkup, she will assess their dental and oral development. This is also the ideal time for you to pick Dr. Fowler's brain about anything regarding your child's oral health. We invite you to make a list of questions beforehand so you don't forget to discuss anything that could have a bearing on the well-being of your favorite little grin. And of course we want you to come to the exam room with them, so they can sense your love and protection throughout the exam process.
Too many kids equate the dentist with the boogeyman — our goal is to change that misconception! Dr. Fowler truly enjoys working with kids, and her passion shines through in the way she interacts with them. With warm smiles and kind words, our team can help your child become accustomed to the dentist. Before you know it, they might even begin to look forward to their bi-annual trips to see us!
Regular Preventive Care for Children's Smiles
After their first visit, your child should be ready to begin regularly seeing Dr. Fowler. At these checkups, we'll count and clean your kid's teeth, examine each one for early signs of cavities, evaluate the condition of their gums, and take annual x-rays to find cavities that may be hiding between teeth.
Education is the best preventive measure, but we also provide other services that are designed to protect your child's pearly whites. For example, topical fluoride and/or dental sealants may be what your little one needs to give their teeth the healthy foundation they need to thrive.
Schedule a Dental Checkup Today!
As your children's dentist in Park Cities, Dallas, Dr. Fowler has a special place in her heart for little smiles. In fact, she just became a mother for the first time in December 2017, and the experience has only deepened her passion for caring for precious young teeth.
Whether you're in Park Cities or one of the surrounding areas, contact our friendly team to find out more or schedule an appointment for you or your children. Dr. Fowler's team looks forward to helping your whole family achieve and maintain healthy smiles!