March 10, 2019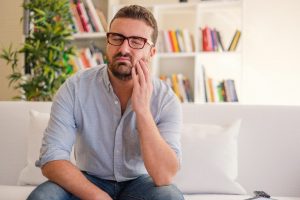 You always brush and floss your teeth, and you try to keep your sugar intake to a minimum. As someone who cares deeply about your smile's well-being, you might be puzzled when you come down with a toothache. Unfortunately, even folks who have excellent oral hygiene habits can develop dental problems — but what if your toothache isn't directly related to your oral health at all? Sometimes, the reason for an aching tooth may be related to the sinuses.
Sinuses and Your Teeth
Your sinuses are empty spaces in the bones of your face. Two of your sinuses, the maxillary sinuses, are located just above your upper teeth. The sinuses are usually empty, but when illness or allergies cause the maxillary sinuses to become filled with mucus, they become blocked and swollen. Since the roots of your upper teeth may come in contact with your sinuses, the teeth can become irritated and sore when you experience sinus problems.
Is it a Sinus Problem or a Dental Problem?
Here are a couple of signs that your toothache is related to your sinuses rather than a dental problem:
The pain is in a whole area of your mouth (your upper back teeth), not isolated to a single tooth
You have other sinus-related symptoms, such as a nasal congestion, a runny nose, or a headache
If you're not sure what's causing your toothache, it's wise to play it safe and schedule a checkup with Dr. Allison Fowler. She'll perform a visual examination of your mouth and may order some X-rays to see what's going on beneath the gum line. If it turns out that your pain is dental in nature, she'll design a treatment plan to get your smile back to feeling its best.
Finding Relief from a Sinus Toothache
Sinus problems and toothaches often go hand in hand. Fortunately, Dr. Fowler is ready to help you identify the cause of your pain and get you back on the road to a healthy, pain-free smile.
About the Author
Dr. Allison Fowler is an accomplished general dentist in Park Cities who always takes a compassionate approach to dental care. Her patients' comfort and overall well-being are among her top priorities. If you are struggling with a toothache or have other concerns about your oral health, she would be happy to help. Contact our office at 214-368-0018 to schedule an appointment or learn more about Dr. Fowler and the rest of our team.
Comments Off

on Is My Toothache Related to My Sinuses?
No Comments
No comments yet.
RSS feed for comments on this post.
Sorry, the comment form is closed at this time.