October 5, 2018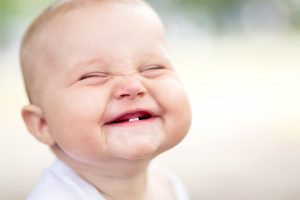 It's usually no mystery when a child starts teething. This stage of babyhood is often accompanied by buckets of drool, tears, and a certain amount of stress for parents, grandparents, and babysitters alike. There are some things you can do, though, to help reduce discomfort for your little one as their new smile develops. Keep reading for what you need to know about teething from your children's dentist in Park Cities!
Try These Tips for Teething
Teething usually begins around 4 to 6 months of age. At first, you may notice your little one drooling more than usual or seeming a little fussy. If you have trouble soothing them and then notice a little pearly white peeking through, you'll know — it's teething time. Act fast with some of these tricks of the trade to help soothe their discomfort.
Provide cooling pressure. Let baby gnaw on a teething toy that you have popped in the fridge — the cold is good for their inflamed gums, and pressure can help by taking the focus off the eruption area.

Use a washcloth. You don't have to buy special toys for teething, though. A simple washcloth can provide the same relief. Soak the cloth in water and pop it in the fridge for about half an hour, then let your child self-soothe with the cloth.

Give the gums a massage. If you're in a pinch, wash your hands thoroughly and gently massage the aching area with your fingers to provide direct relief.

Administer Infant Tylenol. If your child seems to be in significant discomfort and none of the above have been successful, try giving Infant Tylenol according to your dentist's instructions.
Don't Believe These Teething Myths
It's important to separate fact from fiction when it comes to teething. Doing so can help you avoid wasting your time and money on ineffective treatments — some of which may actually be hazardous to your baby. Here are some persistent teething myths:
Teething doesn't cause fever. While your child may run a little hot as a result of the inflammation, teething itself doesn't cause fever. If your child has a noticeable fever, it's due to something else — and should be treated ASAP.

Amber necklaces aren't scientifically proven. Many parents are choosing amber necklaces as a remedy for teething pain, as some believe amber contains pain-killing properties. However, the effectiveness of amber necklaces for teething pain has not been proven. In fact, wearing this accessory can pose a choking hazard for babies.

Teething may not cause every baby misery. Some parents are indeed surprised to find a tooth has erupted with little to no notice from their infant.
There you have it — some helpful tips to assist you as your child's first few teeth come in! Take this advice to heart (and break the myths) to help your little one have an easy time growing their smile.
Meet the Dentist
Dr. Allison Fowler is a family dentist offering Park Cities exceptional care in general, preventive restorative, and cosmetic dentistry. If your little one is starting to teeth and you have questions about how to provide relief, don't hesitate to get in touch with Dr. Fowler by calling (214) 368-0018.
Comments Off

on Children's Dentist Shares Teething Remedies & Myths
No Comments
No comments yet.
RSS feed for comments on this post.
Sorry, the comment form is closed at this time.